Half Moon Retreat- A retreat for women
With Lori Klinger
May 14 - 17, 2020
 Join us at the ranch for this HALF MOON retreat! 
Escape to the countryside and enjoy some well-deserved downtime. The healing powers of wide open spaces and the peace found in nature is second to none. Enjoy yoga, longhorn feedings, campfires and connecting with like-minded yogis. And outside of our scheduled activities, you'll find plenty of time to go "off-campus" and explore the nearby wineries and adorable town square of Saint Jo!
The half-moon carries with it potent teachings and my personal mantras around BALANCE. How do we merge the yin and yang of our lives? How do exhibit our feminine and masculine energy? How do we find the illusive midline and moderation in all things? Those fleeting moments of finding pure balance in our lives are so beautiful…we find ourselves immersed in the "flow". During this retreat we will learn not only how to find balance, but to retain it. Deep introspection is the key. We must not only be accepting of where and who we are by practicing radical self-love, but we must also accept the burden and responsibility to create real and lasting change. Lets do this work together! Be our guest for this retreat with a Texas twist and prepare to unleash your inner cowgirl! Namaste' Y'all!
What's included?
3 nights accommodations in one of four cozy cabins
All cabins include-
AC/Heat
Private en suite (with private OUTDOOR shower only)
All linens and basic toiletries/hairdryer
Tea, coffee, water and snack stations + mini refrigerator
6 ft porches for hang time
A communal fire pit and gathering spot under the oaks
All meals, snacks, + non-alcoholic beverages – chef-prepared (omnivore and vegetarian options available)
Twice daily yoga/guided meditation and/or breathwork
Yoga props (mats, straps, blocks and blankets)
Daily longhorn feedings
Stand up paddle boards and canoe on the pond
Campfires and s'mores (weather/wind permitting and assuming no burn bans are in effect)
Cornhole tournament/scavenger hunts
Roping dummies
Farewell special event with acoustic music
Option to hike and explore 160 acres
Stargazing/sunrises/sunset/peace and quiet
What's not included?
Airfare and airport transfers
Massage/body work (add-on)
skeet shooting (add-on)
wifi
Alcohol. We are BYOB for those of legal age to consume alcohol.
Join us for some down dogs, downtime, and down-home FUN! GIDDY UP!
Leader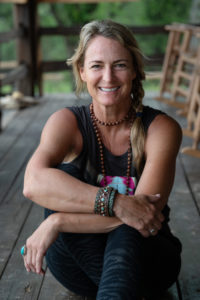 Lori Klinger
Lori Klinger is the owner/operator and lead yoga instructor at The Ponderosa Guest Ranch. She has been a dedicated student of yoga for almost 20 years and has enjoyed teaching and leading retreats since 2004. She is a natural teacher with a passion for sharing the gifts of yoga. She offers a unique blend of uplifting, heartfelt insights and an introspective, yet playful practice that leaves her students feeling refreshed and inspired. With the perfect marriage of movement and attention to alignment, she therapeutically and safely aids in each students' asana evolution. She has been leading yoga retreats around the…
Learn more about Lori Klinger