THE WELL – A Retreat for Yoga Teachers
With Lori Klinger
April 20 - 23, 2023
As a yoga teacher I am certainly not immune to the ebb and flow of creativity, motivation, and inspiration. Throughout my 20 year teaching career, in my effort to keep burn out and boredom at bay, I have made it a personal practice to "go back the well". This simply means going back to study with my teacher, or going on retreat alone, or saying YES to learn something new in order to keep my teachings fresh and my students engaged. And now for the first time ever I am creating the opportunity right here at the ranch for teachers to do just that. Join us for an incredible retreat experience designed specifically for yoga TEACHERS. Because teachers need retreats too! 🙂
Clues that you might want to join us…
Feeling uninspired and longing to breathe some new life into your teachings?
Feeling an imbalance in receiving because its your JOB to GIVE?
Has your creative spark been extinguished?
Missing time for introspection, self-care, personal growth and time spent in nature?
Need a moment to reset, recharge, and get re-inspired?
Bored with your playlist?
Always struggling to create sequencing or themes/messages for your classes?
If you answered "YES" to any of the above, then this retreat is for YOU!
This retreat is specifically designed to allow for teachers to bond over ALL THINGS related to taking the seat of the teacher. We will cover topics on…
*Self-Care – how to fill your cup on a regular basis to create sustainability in your teachings
*The "behind the scenes" creative process of designing a class
*Class themes
*Yoga Philosophy
*Alignment principles for every BODY and a collaboration of all teaching styles
*The business of yoga – Is it time to reinvent your business model or make changes to grow your student base?
*Self-Study & Personal challenges including…breaking through judgement, doing your OWN work, vulnerability, authenticity, keeping your ego in check, juggling the demands of life, family, marriage, and connecting to your students.
We will have group discussions, journal prompts and contemplations, self-study, and each teacher will also have an opportunity to lead a short practice while on retreat.
You can also expect cozy cabins, amazing chef-prepared meals, ranch games, hikes, beautiful views and sunsets, stargazing, wine, campfires and S'mores, loads of laughter, maybe some tears too, and LOTS of bonding opportunitues with your fellow teachers!
Throughout this retreat experience, you will gain fresh new ideas, open to the possibility of a new way of doing things, and feel inspired once again!! Consider this a beautiful opportunity to go back to the well to to fill up, and return to your students and your LIFE feeling creative, inspired, eager to share!!
Leader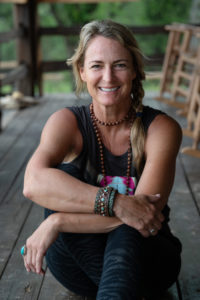 Lori Klinger
Lori Klinger is the owner/operator and lead yoga instructor at The Ponderosa Guest Ranch. She has been a dedicated student of yoga for almost 20 years and has enjoyed teaching and leading retreats since 2004. She is a natural teacher with a passion for sharing the gifts of yoga. She offers a unique blend of uplifting, heartfelt insights and an introspective, yet playful practice that leaves her students feeling refreshed and inspired. With the perfect marriage of movement and attention to alignment, she therapeutically and safely aids in each students' asana evolution. She has been leading yoga retreats around the…
Learn more about Lori Klinger